About Allen Organ
When a congregation expresses its faith through music, there is only one instrument equal to producing a sound as elemental, eternal, and exuberant as its celebration - the organ. The majestic sound of organ music will always be the sound of devotion. Sound that sweeps through the congregation in a wave of symphonic power. Sound you feel - in the soles of your feet and the depths of your heart. Sound that equals the spirit of your worship. The sound of an Allen Organ.

Our dedication to producing exceptional instruments is matched only by our commitment to providing unsurpassed customer service for the long term. Your congregation's organ is an important investment. With Allen's peerless quality, reliability and service you can convert cost into value and transform your music into a sound like no other.

Quality, craftsmanship, technological superiority... these are Allen hallmarks. With more than 80,000 installations worldwide, Allen carries the banner of innovation into the 21st century.


Allen Tech News



Allen Abroad:
Australia


Allen Video
on the Web


New DVD
Available!
Dear e-notes readers:

The calendar says January, but the weather in Macungie has been the rainy upper-40's typically associated with late fall weather. Bear Creek Mountain, the local ski area whose lights I can see from the Allen Organ parking lot, is more like "Bear Swamp" this year. Coincidentally, that is the meaning of the name given to our area hundreds of years ago by local American Indians. Long before "Macungie" was home to the world's largest organ-building facilities, it was a low-lying area where bears congregated. The bears are gone now but Allen Organ Company is going strong with exciting news to share in this issue of e-notes. Enjoy! And, for the sake of my skis, hanging forlornly at home, pray for snow!

Best Regards,

Barry Holben
Vice President, Sales
Allen Organ Company
Allen Tech News

NEW! Q315 15 Rank/Three-Manual Theatre Organ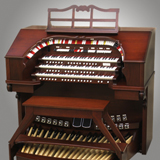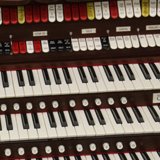 Q315 It's 4 organs in one! 15 Rank/3 Manual Q315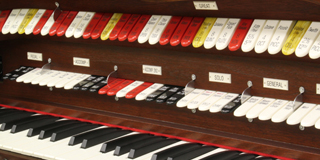 Click to Enlarge
Allen Organ Company recently introduced the Q315 Theatre Organ, successor to the Q311. This exciting instrument isn't just one organ; it's actually three complete theatre organs plus a classical organ, all in one console. In the past, many Allen theatre models included the capacity to voice the one theatre stop list in three different ways, but the Q315 takes versatility to a whole new level. It includes a complete list, each, of Wurlitzer, Barton and Morton stops, as well as a complete classical specification. It also has a larger specification than its predecessor.
The Q315 comes in two different configurations, one with an internal 2-channel audio system and the other with 4-channel external audio system. This augmented audio system imparts improved detail and spaciousness to the Q315E's sound.

Look for the Q315 ad that will run in the January issue of Theatre Organ magazine.

Contact your Allen dealer for additional information and pricing, or call 610-966-2202.

You can hear a sample of the new Q315 by clicking this link!
http://www.allenorgan.com/Q315Sound

>>> More Q315 information
ONGOING! European Oak Custom Console Project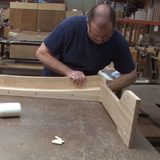 Pedalboard Assembly
Since our November e-notes issue, this project of transforming roughly cut European Oak into a unique organ console continues. The console sides, pedalboard, bench, and jambs have been machined and assembled and are currently in line for final console assembly, component installation and finishing.

We invite you to continue watching the progress of this project as it transforms into a one-of-a-kind console at www.allenorgan.com/europeanoakconsole
Allen Abroad - Sydney, Australia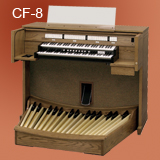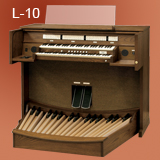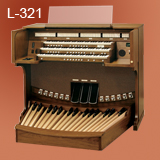 In December, the 2012 Sydney Summer Organ Academy was held in Sydney, Australia. Inspired by the success of the first Academy, held two years ago, this year's Academy hosted 38 participants, aged 13 to 73, during the five day period between Christmas and New Year.
One significant improvement over the first Academy was the introduction of practice digital organs at the event, which were supplied by Jim Clinch and the staff of All Organs Australia Pty Ltd. According to Jim, "We provided one (Allen) CF-8, one L-10 with Navigator II™, and one L-321 with Navigator II™ for the student practice rooms. Apparently whenever someone went 'missing' they were found in one of the practice rooms."

In addition, All Organs Australia provided a TH300 Theatre Organ for a "mystery evening" that accompanied a silent film. This event was open to the general public and there were several members of the theatre organ society present.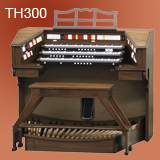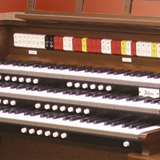 Jim added, "The theatre, which resided in a private Sydney school, had an orchestra lift and the TH300 was put on that so it could rise majestically from the pit in true theatrical fashion, and the sound was fantastic!"

Feedback from participants included;

"The theatre organ surprise was fabulous!"

"We should have a practical session on the theatre organ next time."

"...especially enjoyed the surprise night with the theatre organ!"
Diane Bish at Octave Hall DVD now available!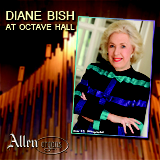 Long-time friend of Allen Organ, Diane Bish, visited Allen's Octave Hall in October 2012 to record a variety of her favorite songs for this special DVD. Recorded on a DB 370, the DVD selection features Diane playing John Rutter's "Toccata In Seven". To view details, or to purchase this fabulous DVD, check the Store section of our web site, or click this link: View Diane Bish At Octave Hall DVD

Watch Video: Diane Bish At Octave Hall - Toccata In Seven
Free MP3 Downloads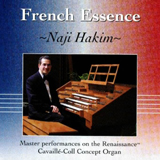 Nothing tells the Allen story better than the sound of our instruments. Recordings of an Allen organ are the next best thing to hearing one in person. In each e-notes we feature a few selections that demonstrate the pipe-like quality of our digital organs in a wide variety of musical styles. Enjoy!
To Download: right click on the song title, then click "Save As".

Classical Selection • Toccata and Fugue in D minor; J.S. Bach
Performer: Carlo Curley
From: Carlo Curley Concert Favorites

Religious Selection • Le Vent de L'Esprit; Olivier Messiaen
Performer: Naji Hakim
From: French Essence - Naji Hakim

Theatre Selection • Selections from The Sound of Music; Richard Rodgers
Performer: Thomas Hazleton
From: Just A Bird's-eye View

Click below to visit the music download page:
http://www.allenorgan.com/www/store/maindl.html
Hear Allen Organs being played by great organist! >> Buy Music CDs
Allen Video on the Web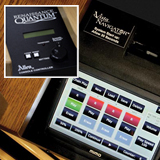 Two topics getting frequent questions pertaining to them are; Allen's Vista Navigator™, and Allen's Rotary Dial Console Controller. Here are two very descriptive instructional videos to help with the operation, and understanding, of each of these important devices utilized on many Allen organs.

Watch Video: Introduction to Allen's Vista Navigator™

Watch Video: Rotary Dial Console Controller

Click here to go directly to the Videos section of our website
Organ of the Month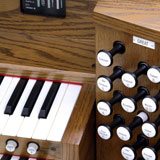 Thank you all for your votes last month and for your enthusiasm! July's Organ of the Month winner was the Heritage™ French-Terrace-Style Console Two-tone Walnut and Oak Three-Manual . Click the link below to visit the AllenOrgan.com site for photos and more!
http://www.allenorgan.com/www/allenews/organoftheweek/2012/20120917/OrganOfTheWeek.html

Choose your favorite from the list below. In the next issue of e-notes, we will let you know which one of these beauties was the readers' choice for Organ of the Month!

For January 2013 the contestants are:
• Heritage™ Walnut on Oak Finish Three-Manual
• Quantum™ Custom Oak Finish Three-Manual
• Elite™ Opus IX Two-tone Walnut and Curley Maple Three-Manual
• Quantum™ Walnut Finish Two-Manual
• Combination Pipe & Digital Diane Bish Series Quantum™
Cherry-on-Walnut Finish Two-Manual

Click here to VOTE!
Links to popular Allen Organ web pages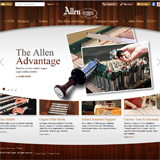 Allen Organ Company Web Site
http://www.allenorgan.com/index.html

Allen Organ Press Releases
http://www.allenorgan.com/www/allenews/mainpressrelease.html

Allen Organ Installations
http://www.allenorgan.com/www/installations/maininstallations.html

Allen's now on Facebook!
http://www.facebook.com/pages/Allen-Organ-Company/102311786594094