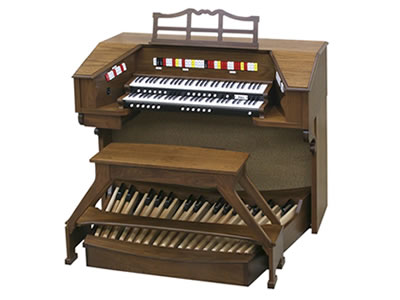 A church organ is an integral part of worship in many churches. At Prestige Pianos & Organs we carry a variety of new and used church organs. Whether you are looking for a more traditional classical sound or a more contemporary theatre or jazz organ you will find an organ to suit your needs in our store.
Why Shop With Prestige Pianos & Organs for Church Organs?
Our business was established back in 1973. Over the decades our reputation as an expert dealership for quality keyboards, pianos and organs. We sell only the best quality merchandise for your musical pleasure. When you visit our dealership you will be impressed with our great selection and friendly staff.
We Have a Wonderful Range Of Church Organ
Prestige Pianos & Organ is the exclusive agent for Tasmania, Victoria and South Australia for Allen Organs which are renowned for their authentic sound and reliability. If you're looking for the convenience that a digital organ has to offer along with the sound of a traditional pipe organ, the Allen Organs is the best choice and investment that money can buy.
We also offer a wide range of pre-loved organs including Yamaha Electone, Rodger, Conn, Gulbransen, Viscount, Kimball, Wurlitzer, Hammond, Kawai, Johannus and others. Our trade-in policy enables us to acquire organs from across Australia. All our organs are workshop overhauled and tested by our highly trained and experienced technicians. Since we specialise in repairs as well as sales you can be sure any used church organ you purchase from us will be in top condition.
Click Here To View Our Current Deals on Allen Organs!
Experience You Can Trust
Whether you are looking for an organ for your own personal collection or a brand new church organ, Prestige Pianos & Organs specialises in what you need. Our experienced staff members are trained to answer any questions you may have about the functionality or maintenance of any organ you intend to buy. Our sales professionals have experience in a wide range of denominational worship and can ensure that you get the best church organ for your needs.
Our showroom is located at 102 Bell Street in Preston. You can come in and talk to our friendly staff and browse through our quality products from 9am to 6pm Monday to Friday and from 9am and 5pm on Saturday. We will be able to help you find your ideal church organ. Give us a call or visit us online today!
Learn more about getting the lowest price on Organs for Sale .