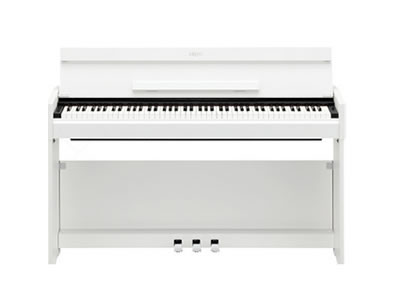 If you are looking for a quality Yamaha digital piano check out our selection at Prestige Pianos & Organs. We have been in the business of pianos and organs for over 35 years and Yamaha digital pianos are just one of our specialties. We have the full range of Yamaha digital pianos on display in our showroom and we welcome trade-ins. If you're ready to upgrade to a digital piano in Melbourne come and talk to the experts.
We Have the Best Selection of Yamaha Digital Pianos
Yamaha digital pianos come in a wide range from portable stage models through to the beautiful polished ebony top of the range Clavinova. The Yamaha Clavinova series digital pianos are created to sound and feel like the closest thing to an acoustic concert grand piano. The keyboard has 88 keys, weighted so that it has the touch and feel of a grand piano and it has foot pedals that function the same way as a traditional grand piano. The Clavinova series also features programmed songs and digital piano lessons. The series is popular due to the feature that allows you to connect to the internet and to your PC for recording and playback features.
Click Here to Learn More about Our Remarkable Yamaha Digital Pianos!
We Also Have Yamaha Digital Pianos for Stage Performances
There are also Yamaha digital pianos that are specially designed for stage performances. These pianos are designed using Yamaha's advanced sound quality techniques. Stage pianos were created with the mobile musician in mind and are portable as well as easy to set up. Many of the stage pianos allow you to connect to your PC for recording purposes. This allows a musician to record audio files which can be mixed with the music of other band members or put on a CD. We carry all the popular stage piano models including the Yamaha P-Series portable stage pianos and Yamaha CP stage pianos.
Save Money with Our Yamaha Arius
We also carry the entry level Yamaha Arius digital piano range for the budget conscious consumer. Yamaha Arius has an authentic sound, natural touch and an absolute joy to play - both in practice and performance - in an advanced, yet affordable console digital piano.
Prestige Pianos & Organs has a Yamaha digital piano that will fit your needs whether you need digital pianos for a school setting or you are looking for a piano that's easy to move from one performance to another. Our staff members are available to answer all of your questions about digital pianos whether you are shopping online or at our showroom in Melbourne. We also offer shipping anywhere in Australia so you won't have to worry about how you are going to get your piano home. Give us a call or visit us online today!
Find out more about getting the best price on Yamaha Clavinova .