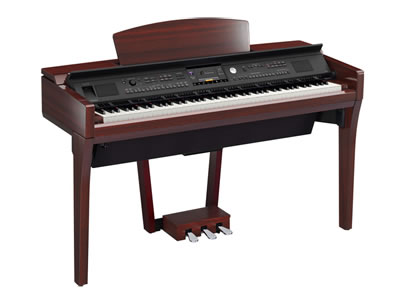 Prestige Pianos & Organs carries Clavinova Yamaha digital pianos which have various instrument pre-sets. Yamaha is one of the most respected producers of digital pianos in the world. If you are looking for a versatile instrument that can play piano pieces and parts for other instruments, a Yamaha Clavinova may be the instrument you need.
We also offer a variety of other Yamaha digital pianos in Melbourne. These Yamaha's feature instrument pre-sets like the Yamaha Arius YDP, Yamaha P-Series portable stage pianos and Yamaha CP stage pianos.
Click Here to View Our Incredible Collection of Clavinova Yamaha Pianos!
Experience the Quality of the Clavinova Yamaha
The Yamaha Clavinova comes in two series. The CLP series has the sound and feel of a concert grand piano. It has been designed and built with a clear focus on achieving pure piano performance. Our CVP series has all the elegance and luxury of a fine piano and a wide range of advanced interactive features that make for an exciting musical experience.
The Yamaha Clavinova CLP series features Piano sounds and Electric piano, Harpsichord, Vibraphone, Church Organ, Jazz Organ, Strings, Choir, Guitar, Wood Bass, Electric Bass and many more pre-sets. The CVP series offers all of these presets and many others, with automatic accompaniment.
Yamahas' vision to enable more people to easily enjoy the fun of playing a piano became a reality in 1983 with the introduction of the Clavinova digital piano. Since then, Yamaha have used their 100 years of experience as a leading piano manufacturer to continually improve and enhance the Clavinova.
Its superb sound and touch result from Yamahas expertise in materials, construction, finishing and tuning, as well as their comprehensive understanding of music and acoustics. Clavinova excellence is attested to by the fact that it is used in over 700 music colleges. Here at Prestige Pianos & Organs we are happy to present the full Clavinova line, confident that you will find a model that will completely satisfy your needs and give you a lifetime of playing pleasure. We can offer you unbeatable deals on a Yamaha piano.
Visit Our Showroom Today!
Come into our Preston showroom in Melbourne for a free no obligation demonstration today. We'll also trade in your old model for a new model. You are welcome to shop online. We offer shipping anywhere in Australia, just call one of our sales staff with any questions about the Yamaha Clavinova or any of our services. Give us a call or visit us online today!
Read more on best selection of Church Organs .