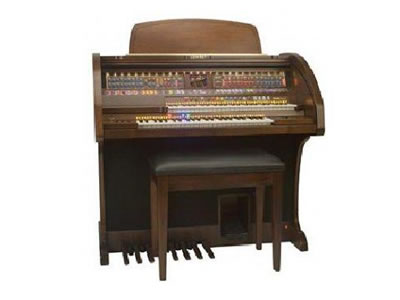 Prestige Pianos & Organs has a variety of digital organs and electronic organs for sale. The sound of an organ is an important part of many worship services and we can provide you with a quality organ as well as services to keep your organ sounding perfect through the years. If you are looking for a traditional organ we have a large selection of re-conditioned organs for sale. We carry all the well-known brands including Yamaha Electone, Johannus, Hammond, Lowrey, Rodgers, Conn, Gulbransen, Viscount, Allen, Kimball and Wurlitzer.
Proud Distributer of Allen Organs
We are the VIC, SA & TAS authorised distributor of Allen organs and carry Allen digital pipe organs that have features combining the classic sound of a traditional organ with the convenience of a digital organ. If you are looking for a new model, Allen Organs come in a wide range to suit most budgets. You may want a digital organ so you won't have to worry about the frequent upkeep that comes with owning a pipe organ.
You can also trade-in your older model if you are ready to upgrade to a digital model. We'll even handle the transportation, our moving services can help you move your organ or piano whether you are sending it to the store for a trade-in or moving to a new location.
Click Here to View Our Wonderful Selection of Organs for Sale
We Have New & Used Pianos & Organs for Sale
Our selection of used organs includes some rare and collectible organs. We have been in the business of pianos and organs since 1973 and have bought and sold a large number of pre-loved organs over that time. Our trade-in policy and connections to other enthusiasts gives us access to organs and digital models that are no longer in production. When you buy a traditional organ from us you can rest assured that we'll be able to provide the necessary upkeep that comes with owning an organ. All our organs are workshop tested and come with a guarantee.
You can browse though our selection of organs for sale and place your order online. Call us for details about our shipping policy that extends throughout Australia. Alternatively, you may want to drop by our Preston showroom located in Melbourne. Our staff is standing by to help whether you're shopping online or in one of our stores. Give us a call or visit us online today!
Find out more about finding Allen Organs Dealers .