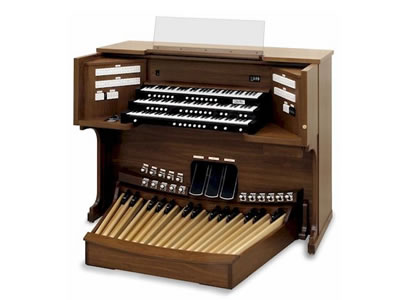 Allen Organs is one of the most respected organ manufacturers in the world and Prestige Pianos & Organs are their exclusive agent for Victoria, South Australia and Tasmania. Allen Organs is the leading provider of classical, theatre and combination organs. So whether you are looking for the traditional beauty and that sound of a digital pipe organ or the convenience of a theatre organ, you've come to the right place. We also carry re-conditioned organs from many well-known manufacturers including Rodgers, Conn, Gulbransen, Viscount, Allen, Kimball, Johannus, Yamaha Electone, Lowrey, Hammond, Kawai, Wurlitzer and others.
Purchase Quality Allen Organs at Affordable Prices
Allen Organs is the largest manufacturer of organs in the United States and has quality digital and classical pipe organs. Allen Organs have been manufacturing organs since 1936 and our company is authorised to install these amazing instruments suitable for your facility whether it's a church, hall, school or for your personal use at home. If you already have a classical pipe organ but would like to update your organ with digital features give us a call.
Click Here To View Our Current Deals on Allen Organs!
Great Range of Options for Allen Organs at Prestige Pianos & Organs
Because of the large size and prohibitive maintenance costs of a classical pipe organ you may want to think about a digital pipe organ. Allen Organs digital instruments are built to mimic all the complex sounds of a classical pipe organ while taking up less space and at a fraction of the cost. Choosing an Allen digital pipe organ will also save you money when it comes to installation since a classical organ can become expensive due to the pipes.
Committed to Quality Customers Service
At Prestige Pianos & Organs our goal is to provide a wide variety of quality organs and pianos for sale. If you decide to purchase one of our Allen Organs or any other theatre or classical organ we have in stock it can be shipped anywhere in Australia. We also welcome trade-ins so we are a great choice if you are planning on upgrading to a newer model.
You are more than welcome to visit our showroom at 102 Bell Street in Preston. We are open Monday to Friday from 9am to 6pm and on Saturday between 9am and 5pm. With almost 40 years in the industry, we can supply you with quality, top-of-the-line Allen Organs. Give us a call or visit us online today!
Learn more on top tips on buying Pianos.