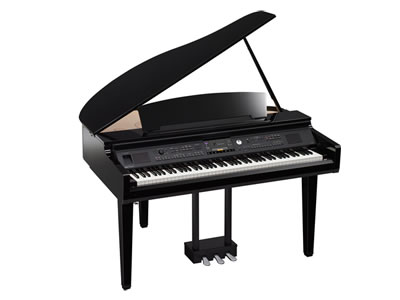 The Yamaha Clavinova is regarded as one the best digital pianos available on the market today. You can find both the CLP and CVP series at Prestige Pianos & Organs. Features like wireless connection to the internet and your computer through a USB port make the Yamaha Clavinova range exceptional when it comes to digital options. Prestige Pianos & Organs also offers a variety of other digital pianos including the Yamaha Arius YDP, Yamaha P-Series portable stage pianos and Yamaha CP stage pianos.
Sensational Sounds from the Clavinova CLP Series
The Yamaha Clavinova CLP series is designed to mimic the sound and feel of a grand piano. The Clavinova uses pure CF sampling to achieve quality sound which means each note is recorded from the same finely tuned grand piano. The keyboard is also modelled from the keyboard of a grand piano and is especially sensitive to touch.
This allows you to communicate variations in sound though your pressure on the keys. The CLP model also has digital features such as volume control, headphones, stored sounds, lessons and the ability to access the internet. The CLP Yamaha piano is perfect for students of at any level.
Enjoy the Music of the Clavinova CVP Series
The Yamaha Clavinova CVP series is designed with the same attentiveness to sound quality as the CLP series but with a wider range of digital functions. The CVP series features an immense database of stored songs so you can practice with a new song every time. There is also a feature that allows you to connect to the internet which gives you access to a large number of pieces with more being added each day.
The CVP also has an electronic display that portrays the song you are playing and a feature that allows you to add other instruments to accompany your piece. The CVP even has a karaoke and recording option that allows you to store your creations as audio files.
Click Here For Amazing Prices on Clavinova Digital Pianos!
We Will Ship To Anywhere in the Country
Both the Yamaha Clavinova CLP and CVP models are excellent instruments for learning how to play the piano. The features will keep you interested as you develop your skills. We offer shipping anywhere in Australia so if you decide to purchase online your digital piano will be shipped directly to your house.
Our knowledgeable professionals can answer all your questions about the features available on each model. Trade-ins are also welcome. Visit us today and check our line of Yamaha Clavinova digital pianos. Give us a call or visit us online today!
Find out more about finding an exclusive agent selling Pipe Organ .