Happy Birthday to Yamaha Clavinova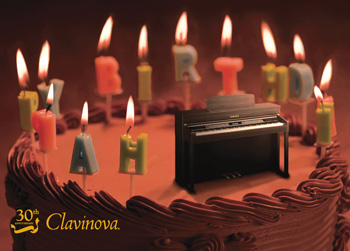 Happy Birthday to Yamaha Clavinova 30 Years & Still Going Strong!
Yamaha Clavinova is celebrating its 30th birthday (1983 to 2013) - celebrate with us and enjoy lots of birthday surprises to mark 30 years of the Clavinova.

Ever since 1983, "Happy Birthday" has been played countless times across the world on a Clavinova. And after thirty years, this digital piano, which revolutionised the music world, sounds better than ever. Over the past three decades, we have worked to continuously improve the touch, tone, response and appearance of the Clavinova. Today, Clavinovas not only resemble a grand piano in terms of touch and sound, but also appeal because of their stylish design and clever functions. Many models feature integrated learning systems, intuitive operation and colour touch screens whilst sophisticated sampling technology assures ultimate realism.

The inspiration in the development of the Clavinova has always been its acoustic counterparts, the classic upright and grand pianos produced by YAMAHA. Over 100 years of piano expertise are incorporated into the Clavinova. In a studio, at home or on stage, for beginners or experienced piano players, whether you prefer classical music or simply want to play the latest hits - Clavinovas offer the perfect playing enjoyment for everyone and have been transforming feelings into music for the past 30 years.

We would like to share this occasion with you and have prepared several musical surprises for you to enjoy.


1983: Yamaha unveil the first generation Clavinova , the YP-40 - featuring new proprietary FM (Frequency Modulation) technology and a new keyboard mechanism.
1986: Yamaha announce the CLP-50 and for the first time Yamaha's acclaimed AWM (Advanced Wave Memory) sampling technology was heard - this new innovation featured digital recordings of the acoustic piano which produced a highly accurate reproduction of its traditional counterpart.
1990: The CLP-760 was launched and for the first time, Yamaha's AWM sampling technology became 'Stereo Sampling' for added realism. This model also featured a new AE (Action Effect) keyboard mechanism which more accurately replicated the hammer action of the acoustic piano.
1996: A major breakthrough for the Clavinova saw the introduction of the Graded Hammer action and 'Dynamic' stereo sampling. These advances provided the foundation for the modern-day Clavinova and saw the instruments being embraced by the music education establishment and conservatoires.
1997: New design styles introduced including mini-grand piano cabinets increased the appeal of Clavinova to style-conscious customers.
2005: More design innovation was apparent in the highly acclaimed 'Slimline' Clavinova models aimed at modern living spaces. Launched at London's fashionable 'Sketch' the press preview was attended by design press and VIP guests including Jools Holland, Jonathan 'Jono' Coleman and James Nesbitt.
2006: The CGP-1000 was introduced, featuring true grand piano design and new vibro-acoustic technology which produces improved tonal accuracy and a highly resonant sound.
2011: The new CLP-400-series was unveiled, marking the most significant breakthrough in touch and tone by introducing "Real Grand Expression".
2012: The new CVP-600 series was launched on the market. Yamaha introduced RGE (Real Grand Expression) for CVPs, offering a simple and intuitive operating environment. This marked the first time that Yamaha has used touch screens in digital pianos.
Learn more about finding a suitable Clavinova Yamaha .