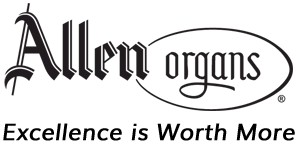 Allen Organs is the largest manufacturer of organs in the United States and has quality digital and classical pipe organs. Allen Organs have been manufacturing organs since 1936 and our company is authorised to install these amazing instruments suitable for your facility whether it's a church, hall, school or home. If you already have a classical pipe organ but would like to update your organ with digital features give us a call.
Introducing GeniSys Voices
ALLEN ORGANS SOUND BETTER, ARE BUILT BETTER, AND LAST LONGER.
Allen Organ Company pioneered digital sound technology in 1971.

Combining 21st century advanced technology and unmatched tonal artistry gained over 75 years, today's Allen organs are acknowledged to be the finest and most pipe-like digital instruments in the world.

And, as the most integrated organ builder, Allen offers the highest quality products with unmatched customer support.