Yamaha Clavinova CVP805 Features

Yamaha CVP-805

Yamaha CVP-805

New

Enjoy authentic voices and backing, with the same playing feel as a grand piano.
CFX and Bösendorfer Imperial piano samplings, CFX Binaural sampling
GrandTouch™ Keyboard with, 88-key Linear Graded Hammers
1,315 Voices + 49 Drum/SFX Kits + 480 XG Voices
525 Styles
(45W + 20W) x 2
(16cm + 2.5cm (dome)) x 2 speaker system
TFT color LCD (touch screen), 7.0 inch 800 x 480 dots
Built-in Bluetooth® audio
iOS app "Smart Pianist" integration (Song function only)
Features CVP805
Sound reverberates through the entire body of the instrument just like a grand piano, and spreads throughout the room to create a warm acoustic ambience. The sumptuous grand piano cabinet adds a touch of splendor to any room.
Explore a wide variety of backing Styles

CVP Series pianos provide plenty of non-piano Voices as well as band and orchestra accompaniment in a wide array of genres, including jazz and pops…

Play your favorite tunes as they are written, or try your hand at arranging-the next catchy arrangement is just waiting to be discovered.
Sing, compose and explore the limitless possibilities of the CVP Series

CVP Series pianos are ideal for people who want to sing, compose and satisfy their hunger to enjoy music in new ways.

Plug in a microphone and sing-CVP Series pianos provide harmonic backing.

Or, use the multitude of convenient functions for composing to create your own original backing.CVP Series pianos inject a whole lot of fun into time with family and friends.
FEATURES
Major features of the CVP Series
The finest piano features

Featuring incredible Voices from the CFX-Yamaha's finest concert grand piano-and Bösendorfer's legendary Imperial,

CVP Series Clavinova possess a sonic palette that is simply stunning. Every key has been sampled individually, and thanks to binaural sampling techniques, the CVP Series provides a fully immersive concert grand piano experience, even when using headphones.

This superb sound has been paired with the GrandTouch keyboard, which allows pianists to play with nuanced dynamics through the entire range of the instrument, and faithfully reproduces the individual differences in the weight and return of each key.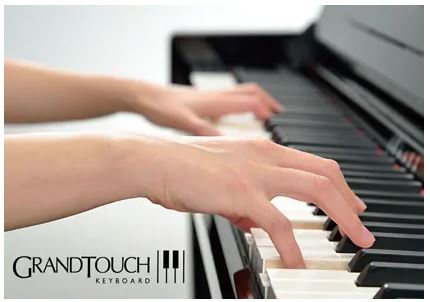 Built on a Legacy of Concert Grand Piano Craftsmanship
Grand Piano keyboards are characterized by a light feel when played gently, and a heavier feel when played with more strength. Conversely, a non-grand piano keyboard has a uniform resistance regardless of whether the player uses a gentle or heavy touch. This has traditionally been one of the most significant differences between the touch of a grand piano and that of a digital piano. However, when developing GrandTouch keyboard action, Yamaha sought to reproduce the true key resistance that is unique to the grand piano, with greater fidelity. The result is an instrument with a more responsive touch, offering a greater dynamic range than ever before. Now you can experience a much more controlled, nuanced sound when playing softly, or powerful, brighter tones when playing with a stronger touch - just like that of a grand piano.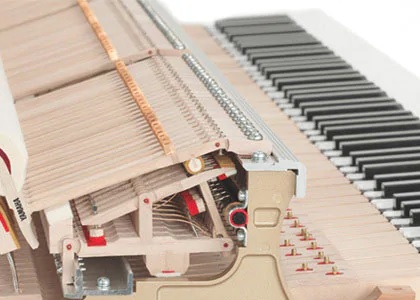 Achieve True Balance
Pianists prefer grand pianos not only because of the way they sound, but also because of the way the keys respond to their touch. When grand piano keys are struck, there is a certain weight or resistance to the touch. Similarly, when keys are released, they return to a resting position based on the balance between the key and the internal mechanics of the keyboard. It is difficult to reproduce the natural return of the keys of a grand piano in a digital piano, due to differences in the mechanics. Yamaha carefully studied these characteristics when developing the GrandTouch keyboard, and has now reproduced this fine balance in the Clavinova digital piano. The result is GrandTouch - detailed grand piano feel that allows for uniform tone control, precise rhythm and smooth melodic expression - fundamental to an exceptional musical performance.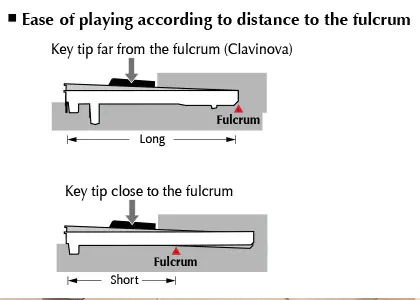 Leverage Your Artistic Expression
When playing a digital piano, the back area of the keys may prove to be a challenge to full musical expression. This is because the back of the key is closest to the fulcrum of the action. The closer to this pivot point that you strike the key, the less leverage you have and the more strength you need to apply. The greater length of GrandTouch keys give the player MORE leverage, allowing for better expressive control, even at the backs of the keys. This is the same support length found on the Yamaha S3X premium grand piano (as of April 2017), and is the longest support length used on any digital piano.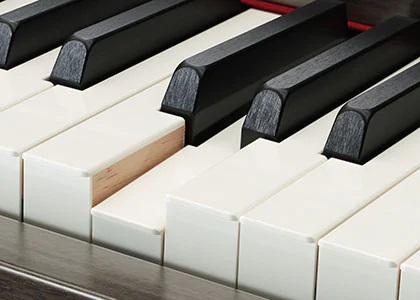 We Didn't Let Any Detail Slide
Our fingers are more sensitive than we think, and for pianists, the texture of the piano keys is extremely important. The GrandTouch keyboard features white keys made from the highest quality synthetic ivory, developed independently by Yamaha. The black keys are finished in synthetic ebony. Synthetic ivory keytops reproduce the tactile surface of the real ivory keyboards once used in older acoustic pianos. It features highly absorbent material that prevents fingers from slipping even after hours of practice, while retaining the ideal texture and feel. Resulting from well over a century of experience in making acoustic pianos, this exclusive Yamaha technology achieves a finish that feels natural and comfortable. In addition to the feel, the appearance and fine texture of these keys is unmatched by any other digital piano, and is sure to inspire pianists from the moment they experience it.
Escapement mechanism of Clavinova Keyboards
The escapement mechanism in a grand piano moves the hammers away from the strings quickly after they strike them, in order to prevent any interference with string vibration. This mechanism produces a slight clicking sensation when the keys are pressed gently. Since Real Grand Expression offers players superb sound, touch and pedaling, we decided to create an escapement that delivers outstanding playability, repetition, and response without impeding performance. The Clavinova keyboards feature an escapement mechanism that reproduces this sensation near the bottom of the key dip. They have been designed in such a way that the click is discernible only on the lightest keystrokes, similar to the keyboard of a grand piano. These keyboards have been adjusted to provide additional friction that balances key repetition and response without impeding performance.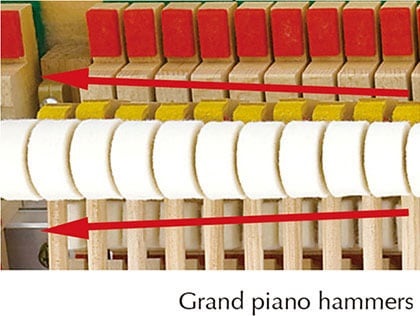 88-key Linear Graded Hammers-the first digital piano keyboard ever to feature alistic weighting on every key
Every single key on a grand piano keyboard is weighted differently. This is because the strings for each note are slightly thinner and shorter in the treble register, becoming thicker and longer towards the bass register. The 88-key Linear Graded Hammers of the Clavinova is the first-of-its-kind to faithfully duplicate this graded touch with differing weights and key return on each one of its keys. This results in a feel and response that is astonishingly like that of a grand piano, and allows players to gain an appreciation of a more authentic touch.
Key counterweights
Counterweights are embedded in the keys of a grand piano to balance the weight of the hammers and offer more precise control when playing delicately at low volumes. The Clavinova features carefully adjusted counterweights for improved playability when playing pianissimo with a light touch, and better key return in rapid passages. The keyboard of the Clavinova has been fine-tuned to offer optimal balance, emphasizing its superb playability and grand piano response.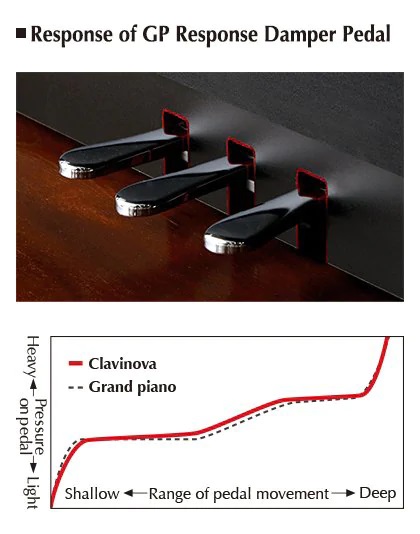 The GP Response Damper Pedal provides an authentic grand piano pedal feel
Using the damper pedal subtly alters the nature of a piano's sound and is essential to providing the pianist with all the necessary expressive tools to convey their musical vision.
Clavinova digital pianos feature a damper pedal that continually detects depression depth and allows halfpedaling, which lets players make minute adjustments to pedal depression and return, changing the depth and character of their piano sound.
High-end models feature the GP Response Damper Pedal, which offers a grand piano-style resistance curve, starting out light to the touch and growing heavier as the pedal is depressed further. This allows players to become accustomed to the nuances of delicate pedaling.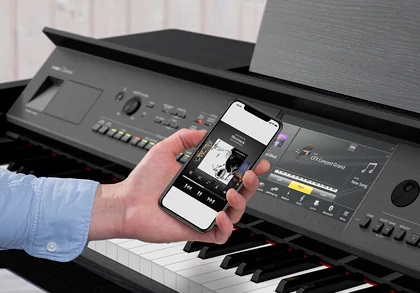 Connect wirelessly for Bluetooth® audio
You can play music through the audio system on the Clavinova by using a Bluetooth-enabled smart device. You can stream audio data such as mp3 files. You can enjoy playing along with any songs on your smart device.
Multi-track Song Recorder
The recording function featured in Clavinova digital pianos allows you to record your performances* with a single touch, which is useful when you want to review your playing objectively. Additionally, you can record up to 16 tracks for simultaneous playback, so different hands can be recorded separately or overdub parts with different Voices.
* Recordings are made in MIDI format, and can also be recorded to USB flash memory. Compatible software is required for playback of recorded data on a computer.
USB Audio Recorder
Record performances to USB flash memory and create audio files* you can save and play back on a computer, share with friends or create a CD.
* Data is saved in WAV or mp3 format

USB Connectivity
Connect the Clavinova to a computer or a USB memory device to manage your library.