Best Prices on Yamaha Clavinova Pianos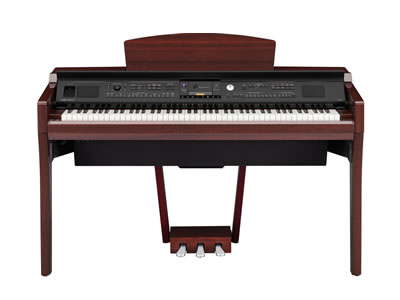 The Yamaha Clavinova is the most trusted instrument when it comes to pianos in a school setting. At Prestige Pianos & Organs we carry both the CLP and the CVP series of the Clavinova as well as a variety of other digital pianos in Melbourne. We take pride in having one of the largest selections of digital pianos in the country. Our staff members are prepared to answer any technical questions you may have concerning the differences between the various models of digital pianos.
The Yamaha Clavinova has Fantastic Functionality
The Clavinova is perfect for individuals who are looking for superior sound quality and advanced digital features. The Yamaha CLP series features a keyboard that's designed to create a realistic experience while you play. The CLP series offers several features such as lessons that are programmed into the piano.
You can also change the tempo of the lesson enabling you to practice at your own pace. With the CLP model you can practice with headphones and record what you play. All of these features make this the perfect piano for the beginner. The CLP series also allows you to access the internet which means you can download more complicated lessons as your skills grow.
Click Here To Get Great Deals on our products!
Experience the Superior Yamaha Clavinova CVP Series
The Yamaha Clavinova CVP series expands on all the features available with the CLP series while staying true to the sound quality and realistic playing experience of a Clavinova. With the CVP series you can master a song and then add other instruments to your piece creating your own band.
The CVP model has expanded the accompaniment section making multiple instruments and songs available as well as access to a database of over 4,000 songs online. The display screen features a guiding dot that will move through the piece as you play to ensure you are playing the right section.
You can also karaoke on the CVP series and record your vocals to accompany the song you are playing. Since the CVP is compatible with your PC creating a CD or audio file of your performance has never been easier.
Come by our Preston showroom in Melbourne for a free no obligation demonstration today. We'll trade in your old model for a new model. We offer shipping anywhere in Australia, making is easy to buy a Yamaha Clavinova. Give us a call or visit us online today!