Your Personal Piano
The Yamaha P-121 is a compact digital piano with 73 keys that combines incredible piano performance with a user friendly minimalistic design.
Easily portable and extremely accessible, this instrument allows you to experience the joy of playing the piano on your terms.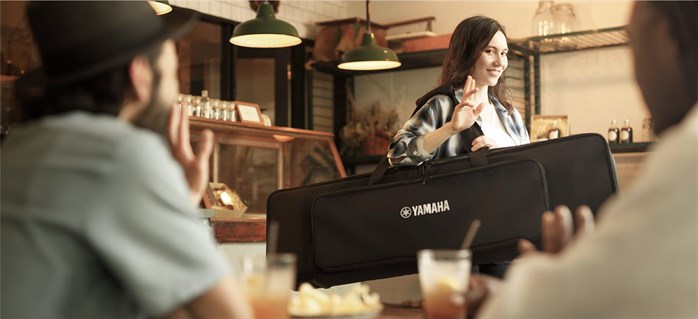 Bring P-121 everywhere you want!
With 73 keys and its ultra portability, P-121 offers you more great potential of piano experience you have never imagine, such as playing music in the cafe or any other place you want to play.
With dedicated keyboard bag SC-KB750, you can bring P-121 with ease and fashionable. Let's go out anywhere you want with P-121!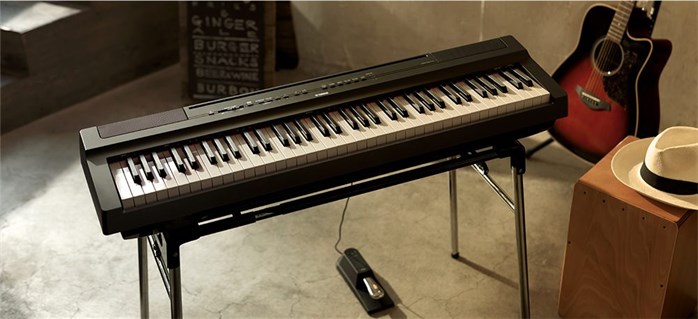 Fit to your lifestyle
The modest and compact design of the P-121 was created with user accessibility in mind. With the goal of being as user-friendly and approachable as possible, every element of the P-121 is designed to help keep the player focused on their playing.
The minimal and compact design of P-121 enables more pleasant piano experience even if you put Piano in small room.
Authentic piano playability

Authentic Piano performance space
The newly improved 2-way speaker system produces an expansive piano sound in both upward and downward directions.
This enables the player to enjoy a rich sound field as though you were sitting in front of an acoustic piano.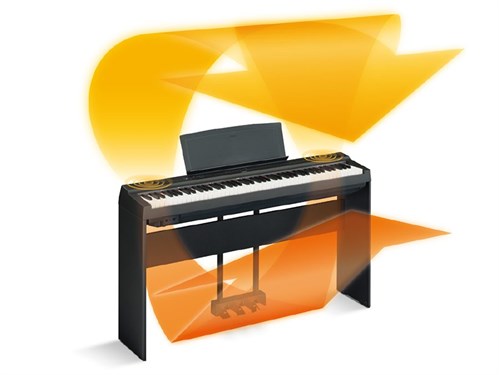 The Stereophonic Optimizer-a new kind of headphone experience
When using headphones, the Stereophonic Optimizer lets players enjoy the same dispersed sound heard when sitting in front of an acoustic piano. With the Stereophonic Optimizer, Voices sampled from acoustic pianos appear to come from the body of the instrument.
This provides a comfortable, natural experience that eliminates the downsides of performing with headphones.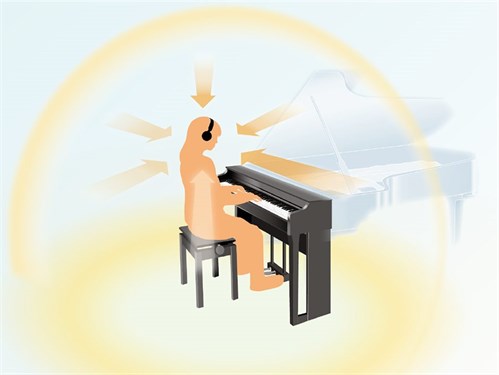 Go and Play-Anywhere
The P-121 is light and compact for easy portability.
With the dedicated keyboard bag SC-KB750, you can bring P-121 everywhere you want.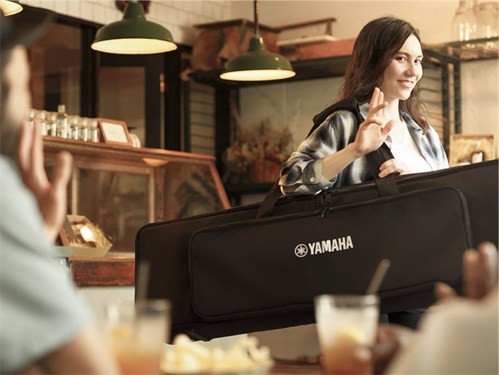 Optimal sound on the table
The new "table EQ" feature enables the player to maintain optimal acoustics, so even if you play on a hard, flat surface, you can get the best possible sound.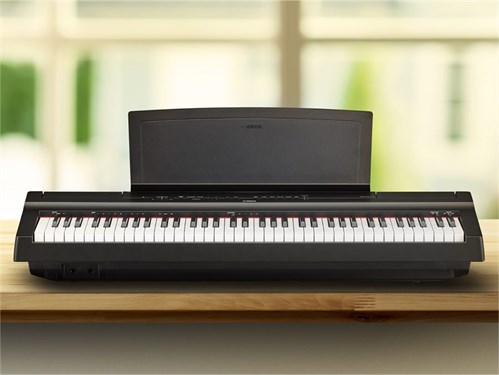 Bass and Drum beats are right on time
P-121 has on-board Bass and Drum tracks that keep your playing in time. There's a variety of rhythm patterns to choose from depending on the the vibe you're going for. From rock to ballads, use these rhythms to add an element of fun to your practicing, or simply use them as a virtual drummer for your performances.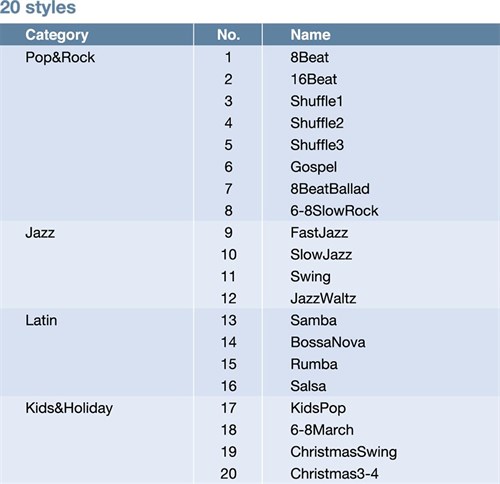 Simple operation using the Smart Pianist app!
Our "Smart Pianist"app allows you to control the many functions included in Yamaha digital pianos with your smart device. Voices, rhythms and other settings can be selected while looking at the screen, making it easy to enjoy new functions with ease.
You can also save your favorite settings for quick recall at any time.
You can discover the chords in audio tracks in your iPhone or iPad instantly. Find new ways to enjoy your P-121, using smart functions that only a modern digital instrument can provide.