Buying a Keyboard Instrument for Home: A Brief Guide for Parents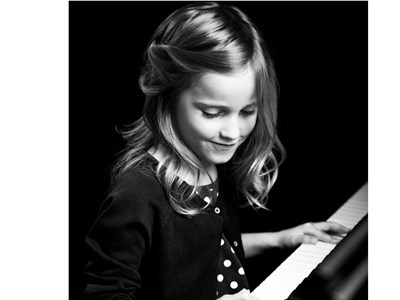 Buying a Keyboard Instrument for Home: A Brief Guide for Parents
Learning a instrument is incredibly exciting and a very worthwhile endeavour. Music teachers know that the best musical results are achieved through regular, consistent practice at home on an instrument suited to the student's level of playing. Practicing on an inadequate instrument at home will set your child back in the long run, and this is an issue that is raised by teachers time and time again. A common frustration for them is knowing that it is often the student's home practice instrument that holds them back. Teachers must engender the ability for young musicians to be discriminating with sound, and it is incredibly important for the student's musical outcomes to be learning on a quality instrument.
A really serious piano student should need and want a grand piano. There are musical possibilities that are only possible on an instrument with a real grand action (key mechanism), pedals and strings. However the beauty and romance of a grand piano is not always practical in the home, and moving down from there, to upright, digital, and hybrids, there are compromises that actually represent stunning alternatives. But there is such a thing as a compromise too far, so here is a guide to what's available and why it's important.
ACOUSTIC UPRIGHT
(U1J is Yamaha's most popular upright piano at $7,595 RRP)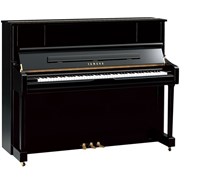 This is the common alternative to a grand piano and, while the compromise of an upright piano is the 'upright action', it is an excellent choice that will be suitable for many years of successful practice, right up until the highest grades. A good quality new piano is an investment and will have excellent resale value, especially with a valid warranty and a known service history. A cheap or lesser known piano will not. So if the worst happens and nobody is playing it anymore, it can at least be sold to the next budding musician.

When looking at second hand, the first thing to consider is this: has the piano been properly serviced and cared for? Like a motor vehicle, pianos are incredibly complex and need regular servicing and maintenance. Second hand pianos most often have an unknown service history, and are frequently imported from different climates, which can experience problems related to adjusting to Australia's humidity.
An heirloom is most often just that; an heirloom. While old pianos have charm and sentimental appeal, they often have degraded sound integrity and mechanical function that will hold back progress. If this situation sounds familiar you should seriously consider an upgrade, or at least a good digital piano.

In our open plan living environments, you can even get a 'Silent Piano' which is an acoustic piano that can be played silently with headphones. Particularly great for apartments, this option extends the available hours of practice and allows for multiple activities in the home.
DIGITAL: Mid-high end
(Yamaha Clavinova CVP and CLP series, and Avant Grand hybrid piano. CLP735B is $3595 RRP)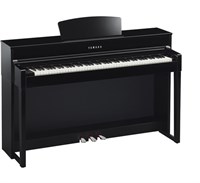 Depending on the specifications, these will suit up to AMEB Grade 6 or even higher. There have been extraordinary advancements in digitals so if it's been five years or so since you've really given digital a thought, it's time to look again. The speaker arrangements create an authentic piano experience, and modern sampling technology can include things like key on/off sampling, string resonance, and damper resonance. The features are derivative of a grand piano, including the action, the pedals and the tone, with the advantage of a smaller cabinet. An added bonus is they are suitable for a wider range of environments and there is no requirement or cost associated with tuning.
DIGITAL: Entry level
(Arius Series, P Series, DGX Series or Piaggero. P45B is $849.99 RRP)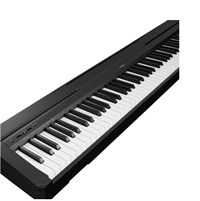 This is a part of the range where you can get terrific value. Sound samples and functionality vary, but a cabinet with pedals (Arius) will give the physical arrangement of a piano, while there are a range of more portable options with a piano focus (P Series) or with the ability to play styles, rhythms and accompaniments (DGX Series). Most instruments in this range have a weighted action to replicate a piano touch.

But can my child just start on keyboard?
(PSRE373 is $429.99 RRP)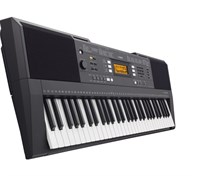 Starting on a keyboard is ok, but hopefully it will have a limited life. That is, your child will enjoy making music and as they improve, will require the nuances, subtleties and expression of a more complex instrument. And they will soon require the use of a pedal. If you start out on keyboard, there are two key things to keep in mind: five octave (minimum), touch sensitive. Touch sensitive means it can play soft and loud (which is expression, and is important). Avoid anything without full size keys. Yamaha would recommend a PSRE343 or higher, and be prepared to think about upgrading in 12 months.
Rental
The benefits of renting are often overlooked. It's a cheap entry point to a good quality new instrument, it's upgradeable when the next level of instrument is required, and you can always return it if it is no longer desired. For beginning students, it can mean they can learn on a great instrument now, rather than wait. Yamaha's range of rentals is available at www.yamaharental.com.au or go in to your local music store and ask if they have a rental program.

Talk with your teacher about the right option for your child, as the right instrument gives better musical outcomes, and will create many years of happy musical memories.
Written by: Cameron Tait - Asst. Marketing Manager, Traditional Instruments, Yamaha Music Australia