Allen Organs Installations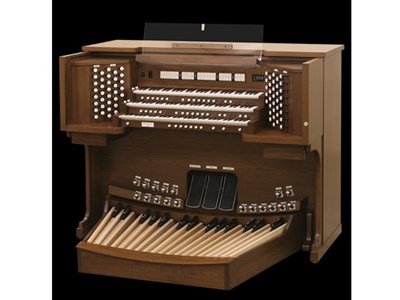 NEW ALLEN ORGAN INSTALLATIONS By Prestige Pianos & Organs
Prestige Pianos & Organs is the sole authorised importer, sales and service outlet for Allen Classical and Theatre Organs for Vic, SA & Tas.
(Victoria, South Australia, Tasmanian )

Allen Organs have been installed in many churches and buildings in Australia, ranging from self contained two manual models to three manual instruments with large audio systems and midi expansion devices. The Allen Organ company has been building organs for over 70 years and is celebrating 40 years since they produced the world's first digital musical instrument.

Our team of experts have done many Allen Organ installations as per the information below. If you want to install an Allen Organ, call us today and our team of experts would most certainly be able to help you out.

Prestige Pianos & Organs
Allen Organs New Installations
Model
Denomination
Suburb
State
ADC4600
Private Residence
Mt Evelyn
Vic
AP17e
Ian Steed's Music School
Doncaster
Vic
AP17e
Private Residence
Woodend
Vic
AP4
Catholic Sacred Heart Catholic Church
Croydon
Vic
C-14c
Catholic St Thomas the Apostle Catholic
Greensborough
Vic
C-14c
Private Residence
Stawell
Vic
C-19c
Church Of Christ
Doncaster
Vic
C-19c
Private Residence
Port Melbourne
Vic
C-19c
Private Residence
Emerald
Vic
C-2
Catholic Sacred Heart Catholic Church
St Albans
Vic
C-2
Private Residence
Bellevue Heights
SA
C-2
Private Residence
Bellevue Heights
SA
C-2
Seven Day Adventist,
Benalla
Vic
C-2
Uniting Church,
Preston West
Vic
C-2a
Anglican St John's Anglican Church
Ballan
Vic
C-3
Anglican Church
Deniliquin
NSW
C-3
Catholic Church Our Lady's Parish
Maidstone
Vic
C-3
Greek Free Church
North Melbourne
Vic
C-3
Private Residence
Flinders Island
Tas
C-3a
Anglican St James Anglican Church
Thornbury
Vic
C-3a
Uniting Church
Yarrawonga
Vic
C-3aEX
Private Residence
Mt Waverley
Vic
C-6
Anglican St Cuthbert's Anglican Church
Yarrawonga
Vic
C-6
Catholic St Agatha's Catholic Church
Cranbourne
Vic
C-6
Catholic St Mary's Catholic Church
Mt Evelyn
Vic
C-6
Private Residence
Camden Park
SA
C-6
Private Residence
McCrae
Vic
C-6
Uniting Church
Rosebud
Vic
C-8c
Private Residence
Yarrambat
Vic
CF-2
Uniting Church Plenty Valley
Epping
Vic
CF-2a
Anglican St Peters Anglican Church
Leongatha
Vic
CF-2a
Catholic Assisi Chapel
Rosanna
Vic
CF-2a
Catholic Community Of Dulwich-Burnside
Dulwich-Burnside
SA
CF-2a
Catholic St Aloysius Catholic Church
Moama
NSW
CF-2a
Presbyterian Church
Carisbrook
Vic
CF-2a
Private Residence
Gardenvale
Vic
CF-2a
Private Residence
South Yarra
Vic
CF-2a
Uniting Church
Rokewood
Vic
CF-3
Private Residence
Bayswater
Vic
CF-4
Bayside Masonic Centre
Gardenvale
Vic
CF-4
Bayside Masonic Centre
Gardenvale
Vic
CF-4
Uniting Church
Port Elliot
SA
CF-32
Private Residence
Upway
Vic
G-100
Presbyterian Church
Lysterfield
VIC
G-100
Uniting Church
Geelong
VIC
Historique I
Private Residence
Vic
Historique I
Camberwell Grammar
Camberwell
Vic
Historique I
Private Residence
Vic
Historique II
Private Residence
Surrey Hills
Vic
Historique II
Private Residence
Bayswater
VIc
L-10
Lutheran Church
Glynde
SA
L-10
Private Residence
Hawthorn East
Vic
L-10
Uniting Church
Warragul
Vic
L-321e
Private Residence
Raymond Island
Vic
L-4
Anglican St Luke's Anglican Church
Frankston Sth
Vic
L-4
Anglican St Stephens Anglican Church
Bayswater
Vic
L-4
Catholic Sacred Heart Catholic Church
Wodonga
Vic
L-4
Catholic St Augustine's Catholic Church
Maryborough
Vic
L-4
Catholic St Christopher's Catholic Church
Airport West
Vic
L-4
Masonic Centre
Bendigo
Vic
L-4
Presbyterian Church
Epping
Vic
L-5
Private Residence
Wynyard
Tas
L-5
Waverley Masonic Centre
Mt Waverley
Vic
L-5
Melbourne Masonic Centre
Melbourne
Vic
L-5
Melbourne Masonic Centre
Melbourne
Vic
L-5
Box Hill Masonic Centre
Box Hill
Vic
L-5
Box Hill Masonic Centre
Box Hill
Vic
L-9
Catholic Church St Mary's Parish
Ascot Vale
Vic
L-9
Catholic St Scholastica's Catholic Church
Bennettswood
Vic
L-9
Presbyterian Ladies College
Burwood
Vic
L-9
Uniting Church St Stephens
Wodonga
Vic
MDS312
Private Residence
Bayswater
Vic
MDS312
Private Residence
QLD
MDS312
Private Residence
Mt Evelyn
Vic
PTC
Private Residence
Essendon
Vic
Q211
Private Residence
Bayswater
Vic
Q211
Private Residence
Blackburn
Vic
Q211
Private Residence
Main Ridge
Vic
Q275
Lutheran Church Calvary
Greensborough
Vic
Q285D
Ivanhoe Grammar School
Ivanhoe
Vic
Q311SP
Private Residence
Kensington Park
SA
Q311SP
Private Residence
Lower Longley
Tas
Q311SP
Private Residence
Port Melbourne
Vic
Q311T
Private Residence
Reservoir
Vic
Q320i
Private Residence
Heidelberg
Vic
Q325B
Private Residence
Plenty
Vic
Q325B
Private Residence
Mooroolbark
Vic
R211
Private Residence
Vermont
Vic
R230
Uniting Church
Coburg
Vic
R380
Private Residence
Queenscliff
Vic