Welcome to the new world of Digital Workstation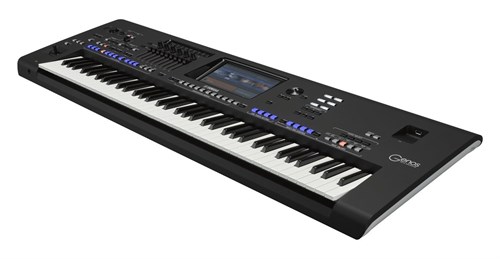 The best sound quality ever on a Digital Workstation
Powered by specially developed Yamaha technology, the sonic quality of every Voice in Genos is beyond any other Digital Workstation you've ever played. Everything you hear, whether it be the beautiful CFX piano, the lush Kino Strings or the punchy Revo!Drums, it just blows you away!
-AEM (Articulation Element Modeling)
This technology simulates the characteristics of musical instruments. During a performance the technology sounds appropriate samples, in real time, according to what and how you play. Samples are smoothly joined and articulated-as would naturally occur on an actual acoustic instrument.
-Revo!Drum/SFX
Revo!Drum Voices recreate the authentic sound of drums. Even when playing the same key multiple times, the sound is always of a different nuance, making it incredibly natural and realistic.
Content
Whether you create or perform music, you need great content. Genos features a diverse range of contents, starting from 1,710 instrument sound, 550 backing patterns, 216 arpeggios and more.
-Ready to go content
Genos features stunning contents which will inspire you from the moment you start to play.
Effects
From Reverb to Distortion, Rotary Speaker to Compressor, Genos boasts unprecedented DSP power.
Using the same VCM technology as Yamaha's professional high-end mixing consoles, Genos has the tools to create the perfect sound. Not only do the effects sound great, they look great too-with a stunning graphical user interface.
Vocal Harmony & Synth Vocoder
You can automatically apply various Vocal Harmony effects to your voice as you sing, or you can use the Synth Vocoder to craft the unique characteristics of your voice onto synthesizer and other sounds.
Expand your music
You can continually expand the onboard content of your Genos by creating and installing your own custom or purchased Packs. The scope of possibilities for new sounds and styles is virtually unlimited.
-YEM (Yamaha Expansion Manager)
YEM is PC/Mac software designed to manage the Expansion contents for Yamaha keyboards, and even enables you to create your own new sounds and loops.
-Integrated Flash Memory
Genos includes 1.8GB of user flash memory with high speed reading/writing for your own Voices.
Control Your Music
Intuitive and fast control
Genos features an intuitive interface for music making and sound creation.
-Touch Screen
Select and change parameters directly with the new 9" colour touch screen.
-Assignable buttons
While performing, you often need to act fast to access certain features. Choose from a range of functions to set to the 6+1 assignable panel buttons and with just a single touch, you can instantly recall your desired function.
Style Engine
Genos features a variety of rhythmic backing patterns and accompaniments (called "Styles") in variety of different musical genres. Styles feature sophisticated patterns to inspire your creativity. You give the idea and Genos will react to you.
Registration Memory
The Registration Memory function allows you to save (or "register") virtually all panel settings to a Registration Memory button, and then instantly recall your custom panel settings by simply pressing a single button.
Shaping Your Idea
Turn great ideas into reality
Start from the original idea of a song, pick an instrument Voice and Style of your choice. Play and work out the arrangement and capture it as a MIDI song. Then, overdub some sounds and create your demo or even your finished track.
Recording function (MIDI/Audio)
Quickly record your performance as audio (WAV) or Standard MIDI File (SMF) with the Quick Recording feature. For more complex arrangements, Multi Recording features a fully functional 16-track MIDI sequencer with realtime and steptime functionality.
When you are happy with your recording, it can be stored to the internal User Drive or saved to USB Memory for easy sharing.
- Digital output
The new S/PDIF Digital output can be connected to compatible studio equipment or home theatre to output audio from Genos without any loss in quality.
Arpeggio
Genos has 216 Arpeggios to enhance your performance. There are a variety of arpeggio types, some are straight forward instrument arpeggios, others recreate strumming guitar effects and controller arpeggios automate Live Control by adjusting sound filters in realtime as you perform.
High quality keyboard action
The FSX keyboard features a premium action with aftertouch. The keys are created in a high-precision manufacturing process for an incredibly durable keybed, enhanced key stability and "fast" action. The 76-key professional keyboard features enhanced touch response allowing for highly expressive and dynamic performances.
Direct Access
The Direct Access feature provides a shortcut to a wide variety of Genos functions. Simply press the Direct Access button followed by another panel button or footswitch to jump directly to relevant controls in the display.
Enhance your performance (Style Engine)
Whatever genre of music you wish to perform, Genos is ready to accompany you with world-class arrangements, punchy drums and powerful DSP/Effect. Never has there been a more perfect personal backing band.
Add some flavor to your performance (Multi Pads)
The Multi Pad can be used to play a number of short pre-recorded rhythmic and melodic sequences and loops that allow you to add impact and variety to your keyboard performance.
-Audio Link Multi Pad
Multi Pads do not only work with MIDI data, they also allow you to create unique, new pad content with your own audio (WAV) data for playing back during your performance.
High quality output
The audio output of Genos has been completely redesigned to deliver professional quality sound from your keyboard.
- New output circuit
The new 32bit Digital Audio Converter (DAC) provides high quality defined sound across a wide frequency range, ensuring Genos always cuts through the mix.
-Sub out
Genos features four Sub line-out connections that you can use to adapt your sound to various situations.
SPECIFICATIONS
GENOS

Size/Weight

Dimensions
Width
1,234 mm (48-9/16")
Height
138 mm (5-7/16")
Depth
456 mm (17-15/16")
Weight
Weight
13.0 kg (28 lb, 11 oz)

Control Interface

Keyboard
Number of Keys
76
Type
Organ (FSX), Initial Touch/Aftertouch
Touch Response
Normal, Easy1, Easy2, Soft1, Soft2, Hard1, Hard2
Other Controllers
Joystick
Yes
Control Knobs
6 Live Control knobs (Assignable)
Sliders
9 Live Control sliders (Assignable), Cross Fader
Art. Switches
3
Display
Type
Main Display : TFT Color Wide VGA LCD | Sub Display: OLED (Live Control view)
Size
Main Display : 800 x 480 dots (9 inch) | Sub Display: 589 x 48 dots
Touch Screen
Main Display : Yes
Language
Main Display : English, German, French, Spanish, Italian | Sub Display: English
Panel
Language
English

Voices

Tone Generation
Tone Generating Technology
AWM Stereo Sampling, AEM technology
Polyphony
Number of Polyphony (Max.)
256 (max.) (128 for Preset Voice + 128 for Expansion Voice)
Preset
Number of Voices
1,652 Voices + 58 Drum/SFX Kits
Featured Voices
10 Revo! Drums/SFX, 76 Ensemble, 390 Super Articulation!, 75 Super Articulation2!, 82 MegaVoice, 40 Sweet!, 81 Cool!, 160 Live!, 24 Organ Flutes!
Compatibility
XG
Yes (for Song playback)
GS
Yes (for Song playback)
GM
Yes
GM2
Yes
Part
Right 1, Right 2, Right 3, Left

Expandability

Capacity
Voice
Yes (approx. 1.8 GB)
Style&Voice Set
Yes (Internal Memory)

Effects

Types
Reverb
59 Preset + 3 User
Chorus
107 Preset + 3 User
DSP
Variation: 358 Preset (with VCM) + 3 User | Insertion 1-28: 358 Preset (with VCM) + 10 User
Master Compressor
5 Preset + 5 User
Master EQ
5 Preset + 2 User
Part EQ
28 Parts
Vocal Harmony
Number of Presets
Vocal Harmony: 54 | Synth Vocoder: 20
Number of User Settings
60 * The number is the total of Vocal Harmony and Synth Vocoder
Vocal Effect
Mic Effect: Noise Gate, Compressor, 3 Band EQ | Vocal Effect: 23

Accompaniment Styles

Preset
Number of Preset Styles
550
Featured Styles
491 Pro, 39 Session, 10 Free Play, 10 DJ
Fingering
Single Finger, Fingered, Fingered On Bass, Multi Finger, AI Fingered, Full Keyboard, AI Full Keyboard
Style Control
INTRO x 3, MAIN VARIATION x 4, FILL x 4, BREAK, ENDING x 3
Other Features
One Touch Setting (OTS)
4 for each Style
Compatibility
Style File Format (SFF), Style File Format GE (SFF GE)

Multi Pads

Preset
Number of Multi Pad Banks
448 Banks x 4 Pads
Audio
Audio Link
Yes

Songs

Preset
Number of Preset Songs
9 Demo Songs, 11 Preset Songs
Recording
Number of Tracks
16
Recording Function
Quick Recording, Multi Track Recording, Step Recording
Compatible Data Format
Playback
SMF (Format 0, Format 1) , XF
Recording
SMF (Format 0), approx. 300 KB per Song

Functions

Audio Recorder/Player
Playback
WAV (44.1 kHz, 16 bit, stereo), MP3 (44.1 kHz, 64/96/128/256/320 kbps, stereo)
Recording
WAV (44.1 kHz, 16 bit, stereo), approx. 0.8 GB (80 minutes) per Song
Time Stretch
Yes
Pitch Shift
Yes
Vocal Cancel
Yes
Voices
Harmony/Echo
Yes
Arpeggio
Yes
Panel Sustain
Yes
Mono/Poly
Yes
Styles
Style Creator
Yes
OTS Information
Yes
Multi Pads
Multi Pad Creator
Yes
Registration
Number of Buttons
10
Control
Registration Sequence, Freeze
Playlist
Number of Records
2,500 (max.) Records per Playlist file
Songs
Score Display Function
Yes
Lyrics Display Function
Yes
Search
Registration Bank
Overall Controls
Metronome
Yes
Tempo Range
5 - 500, Tap Tempo
Transpose
-12 - 0 - +12
Tuning
414.8 - 440.0 - 466.8 Hz (approx. 0.2 Hz increments)
Octave Button
Yes
Scale Type
9 Types
Miscellaneous
Direct Access
Yes
Text Display Function
Yes
Wallpaper Customization
Yes

Storage and Connectivity

Storage
Internal Memory
Yes (approx. 58 GB)
External Drives
USB flash drive
Connectivity
Headphones
Standard stereo phone jack (PHONES)
FOOT PEDAL
1 (SUSTAIN), 2 (ART.1), 3 (VOLUME), Function assignable
Microphone
Yes (Combo Jack) , Phantom Power (+48V) available
MIDI
MIDI A (IN/OUT) , MIDI B (IN/OUT)
AUX IN
L/L+R, R
DIGITAL OUT
Yes (coaxial)
LINE OUT
MAIN (L/L+R, R) , SUB (1, 2) , SUB (3, 4 / AUX OUT)
USB TO DEVICE
Yes (x 3)
USB TO HOST
Yes
LAN
Yes (*) , Standards: IEEE802.11b/g/n (IEEE802.11n 5GHz: not compatible) *May not be included, depending on your area. Check with your Yamaha dealer.