Professional Yamaha PSR SX & A Series & Genos Workstations

Yamaha Genos 76
Welcome to the new world of Digital Workstations. Genos is the new benchmark in Digital Workstation sound, design and user experience.Whether you are in a recording studio or on stage, Genos will inspire and intensify your musical creation and performance.

Genos New 76 Note
The next step in the evolution of Digital Workstations: Genos Version 2.0 raises our flagship model to the next level. Equipped with new features and incredible new musical content, Genos is the perfect choice for anyone looking for the finest keyboard experience.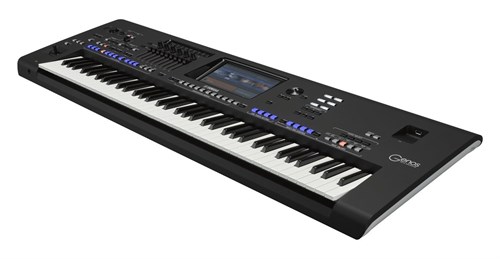 The best sound quality ever on a Digital Workstation
Vocal Harmony & Synth Vocoder
Intuitive and fast control
Recording function (MIDI/Audio)
High quality keyboard action
High quality output
Pre Order Now
Yamaha PSR-SX900
PSR-SX900

New

Take your performance to a whole new dimension with the PSR-SX. Replacing the hugely successful PSR-S series, the PSR-SX900 is the new generation in Digital Workstation sound, design and user experience. These instruments will inspire and intensify your musical performance and enjoyment.
1337 Voices, including 252 Super Articulation Voices, 24 Organ Flutes! Voices. 56 Drum/SFX kits
525 Styles, including 463 Pro Styles, 46 Session Styles, 10 DJ Styles and 6 Freeplay Styles
Pre-installed Expansion content
Real Distortion and Real Reverb, with an intuitive effects interface
1GB on-board memory for expansion data
4GB internal memory
MIDI song file capacity : 3MB per file
Joystick, FSB keyboard, Sub output, and Expansive Soundfield Speakers for powerful live performance
Intuitive and fast control with 7" color touch screen and Assignable function
Chord Looper function
Mic/Guitar input for use when singing or collaborating with other performers
Playlist and Registration for quick and easy set up
Vocal Harmony and Synth Vocoder functions
Audio Recording (WAV/MP3)
Voice and Style expandability with the Yamaha Expansion Manager
2 USB TO DEVICE terminals
External display capability
Bluetooth Audio *may not have this functionality depending on the country
PSR-A3000 RRP$2399
PSR-A3000 Arranger Workstations
Price: $2,399.00 RRP
The sound you want, anywhere you take it
The PSR-A3000 is equipped with Joystick for intuitive control of your performance and gives you real expressive sound. It also supports Yamaha Expansion Manager for Voice creation feature from your recorded sample and Expansion contents arrangement.
997 Voices, 58 Drum/SFX kits, and 480 XG voices. Including 171 Oriental Voices and 25 Oriental Kits.
107 Super Articulation Voices, including Oriental Super Articulation Voices.
400 preset Styles, including all-new DJ Styles and Oriental Styles.
Assignable joystick for more dynamic live performance. Assign combination of parameters such as Filter, and Style Track muting.
Scale Tuning and Scale Setting Buttons support any type of tuning.
New Arpeggio function gives you instant access to a library of phrases.
Time stretch, pitch shift, and vocal cancel function are added to USB audio playback.
Re-design of sound system with new speaker enclosure, new Master EQ and Master Comp. function brings you powerful sound.
Various effects, including Real Distortion and Real Reverb, can be applied to your performance.
Drum Setup function in Style Creator for editing the Drum kit for Style Performance
PSR - S670 RRP$1299
A new generation of digital keyboard
With its stunning design featuring new voices and styles, DJ functions the PSR-S670 is a performance keyboard like no other.
416 Voices (including MegaVoices), 34 Drum/SFX kits and 480 XG Voices
Authentic sampled sounds including superb acoustic and electric pianos, and electronic sounds perfect for today's dance music
New intelligent Arpeggio function with instant access to a library of arpeggiated synth phrases and patterns
230 Styles including a brand new DJ category.
Two live controllers for instant control over effects and other functions, including filter, arpeggio and track mute.
Expansion Memory - add new voices, drum kits and styles for extra versatility and enhanced performance
Authentic voices and styles from around the world
Accessories
Keyboard stands, stools and cases/bags
Prestige Pianos & Organs carries a multitude of accessories for keyboards, digital pianos and stage equipment including stands, stools and microphones for the amateur and professional as well as bags and pedals to suit all major brands of keyboards and stage pianos. Whatever your budget might be we will find something to suit.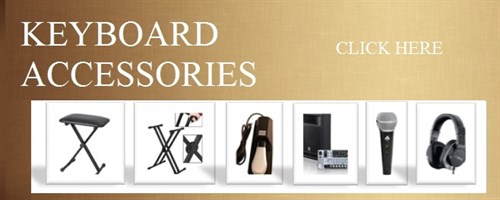 PA Systems

We carry a range of PA equipment for various uses. Powered speakers for solo performers or speaking engagements at Churches or schools through to band amplification mixers with front-of-house speakers and fold back options. There are also modular options for various applications including raising the sound quality and volume of keyboards, vocal amplification and studio fold back. Whatever your budget might be we will find something to suit.
All the World's YOUR Stage
When it comes to portable live sound solutions, it doesn't get any better than STAGEPAS. With impressive power and sound quality, intuitive control, and a comprehensive array of flexible features, including a new Bluetooth® wireless audio streaming function, this all-in-one PA system builds on the STAGEPAS legacy of providing everything you need to transform any environment into your own personal stage.
.

Microphone, mic stand and leads
Professional and amateur microphones are available with boom stands and various length leads. A good microphone makes an average voice sound better. Package deals for PA and microphone setup can be arranged for the different application types from solo instrumental and vocals to full band amplification. Whatever your budget might be we will find something to suit.

USB Audio Interfaces
Keyboards with midi out/inputs can be hooked to a computer to write music, create music and manipulate music. You can record tracks separately or together, print off the music you play and add and subtract notes and parts recording full band material or solo tracks. Midi makes it all possible. We have a variety of midi devices to suit the needs you may have.